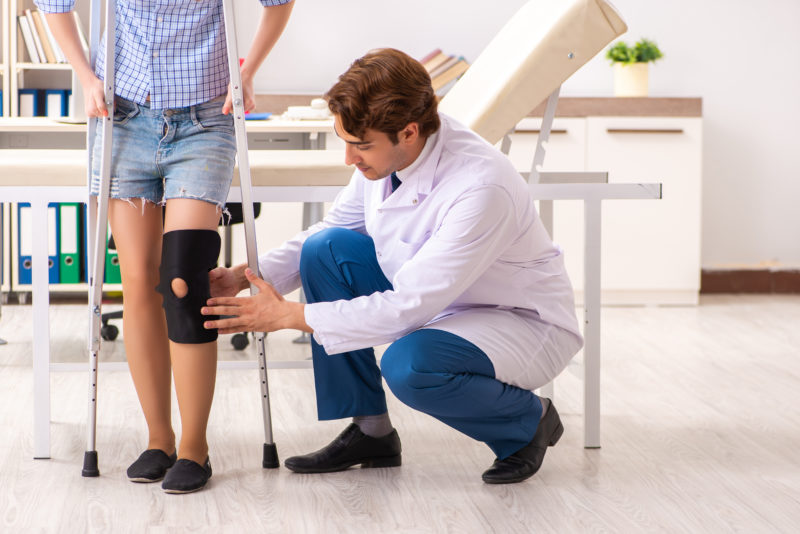 How many times has someone walked into your store and asked you what they should get for knee pain? Sometimes they'll have a prescription with something vague like "hinged knee brace." But with so many options available, how can you tell which knee brace will help alleviate their pain best?
Have They Seen a Doctor?
If your customer is in pain but doesn't know why, they should see a doctor before purchasing anything. The wrong type of support at best will not help at all, and at worst could cause further damage.
If they have seen a doctor, they should know why they're in pain. For instance, they may tell you they have patellar tendonitis, an ACL injury, or bursitis. If they have a prescription with the specific type of knee brace they need, go with that.
Our Knee Brace Guide
If you know which type of knee brace your customer needs, we've narrowed the options down for you here. These are our best-selling knee braces in each category.
Sleeves
Knee sleeves provide compression and warmth to reduce swelling. Compression sleeves can also help athletes perform at their best, helping to increase blood flow through the knee. However, most knee sleeves do not provide any extra stability for injured knees. If your patient is looking for a knee sleeve, we recommend: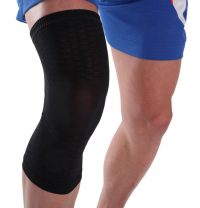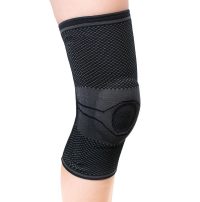 Patella Straps
These straps are great because they're low profile. They relieve pain by putting tension on the IP tendon, reducing slack. They are often used for those who play sports. Our best patella strap is the 26/3126:
Patellofemoral Supports
These supports are used for patella tendonitis, patella subluxation, mild chondromalacia, patella dislocation, and patellofemoral pain syndrome, and other causes of kneecap instability. We have two very effective options for those with patella pain and tracking problems: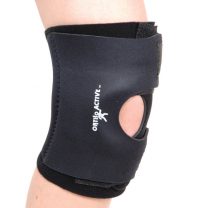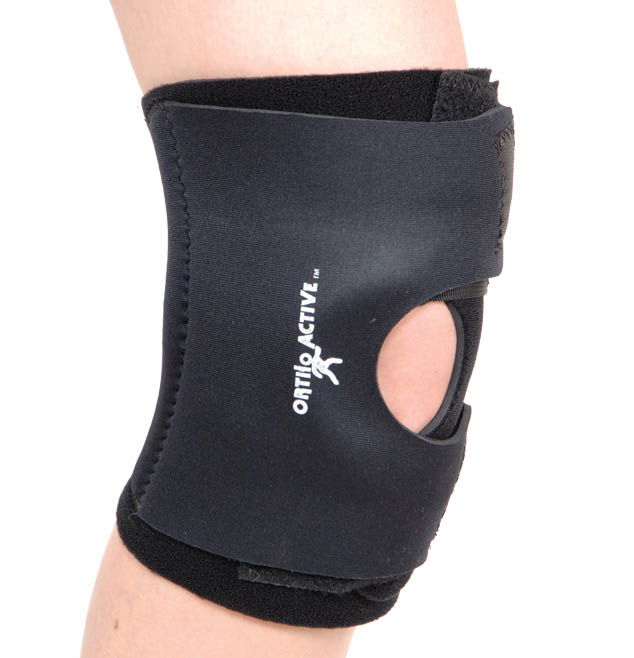 A Neoprene support with a high-grip sharkskin liner that grabs the patella and provides superior pressure. Medial and lateral stays prevent rolling, and the wrap-around design allows for variable levels of compression.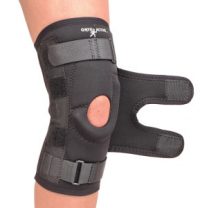 A longer option with a tubular lateral "J" buttress which provides lateral patellar support to enhance patellar tracking. It also has a lateral-to-medial strap and spiral side stays for added support.
Hinged Knee Braces
There are many types of hinged knee braces, but they all have metal stays that provide a high level of support to knee ligaments. These braces are useful for those with medial collateral ligament injuries.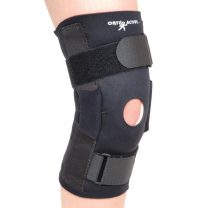 #32P Hinged Knee Brace
This is our most popular knee brace. The metal stays provide medial and lateral support, the buttress stabilizes the patella, and Neoprene provides warmth and mild compression. We have a pull-on style, and we also have an open top and wrap-around version for patients who have difficulty pulling braces over their knee.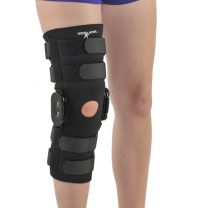 This brace was designed for ACL and PCL support because of its interlocking strap system. It is also a good post-surgical brace because the hinges have range of motion stops.
Post-Op/Immobilizer Brace
After knee surgery, it's important to limit movement to prevent re-injury and unwanted pain. If your customer's doctor recommended a "Zimmer Splint", this is the brace they need.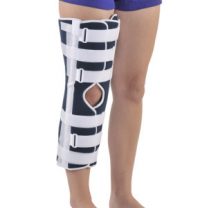 Universal 3-Panel Knee Immobilizer
This option completely immobilizes the knee joint. It has two medial, two lateral and three posterior stays that are removable and malleable.
To place an order for any of these braces, you can sign up for an online account and place the order through our website, or you can always give us a call, fax, or email us. If you are a consumer who would like to buy one of these braces, you can find one of our retailers here.