Last weekend, we had the opportunity to be an exhibitor at AOPQ in Montreal. Ken went and represented Ortho Active, and he said it was awesome to see some of our customers and meet lots of new people!
At the show, our booth was beside Caroline and Mario's booth. Mario is an orthotist and came to check out the exhibitors, and Caroline was manning their booth. All of their posters and displays were in French (Ken doesn't really speak French) and they weren't displaying any orthotic or prosthetic products. Ken eventually gave up on trying to figure out what they were promoting and asked Caroline about her booth.
She explained that their daughter Maélie passed away in 2018 when she was only 6 years old, due to a condition that prevented her heart from functioning at full capacity. To keep her spirits up while she was in intensive care, her family brought her princess and superhero costumes which she loved to dress up in, decorated her room for each season and holiday, and threw parties for all the kids in the ICU.
Even after Maélie's death, Caroline and Mario wanted to keep bringing joy to the children in the unit because they saw how much of a difference it made. They kept throwing parties and bringing in toys and costumes – but they realized how expensive this would be going forward indefinitely! So they set up the Maélie Alfaro-Fortier Fund of the Sainte-Justine UHC Foundation.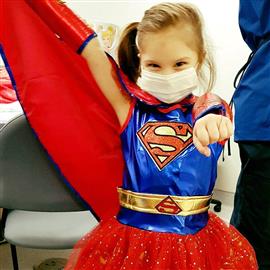 This is their mission (translated from French):
We want to make sure that all children are treated in a humane, child-friendly environment. That our young and old can have access to their childhood with toys, DIY, a place to have fun, visits of their favorite character, festivities…

In collaboration with the medical team, we want to purchase equipment for the unit in addition to psychologically and financially supporting families.

We want children to feel good and happy despite their condition, as Maélie was. We want to punctuate their everyday life with small simple gestures, but with the power to change everything.

We hope that through the Maélie Alfaro-Fortier Fund, Maélie's light will enlighten and give hope to the whole unit! (You can read the entire story here).
Maélie's family is trying to raise $50,000. Ortho Active wants to support this fund in any way we can, so we donated at AOPQ and now we're passing the info along to you. You can make a donation at http://fondsmaelie.org or simply share the link with family, friends and coworkers. Thank you for partnering us in this worthy cause!